The King of the Rings star, Liv Tyler affirmed that she is planning to sing with her father the Aerosmith leader but her work schedules prevented her.
She declared during an interview with S magazine that she prepared with her father who is a member in Aerosmith to make a duet together but she always apologizes because of her busy, and as we know her father always finds free time in his work throughout his personal studio.
Liv considered herself a lucky person due to having such a famous father like her father who is the king of rock music and lovely singer by people since 1970; however she pointed out that it caused her concern and annoyance at some point in her private life before becoming a movie star role.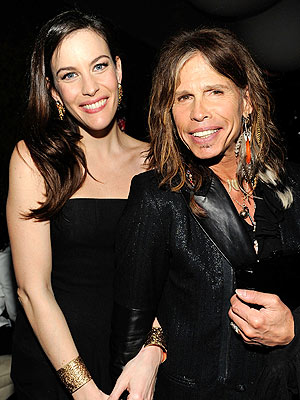 The disturbance started when the fans of her father gathering around her to convince her in order to introduce them to her father and whether if he needed new musicians in the Aerosmith party so they got the good chance.
Liv Tyler is waiting now to have a good time in order to complete her projects with her lovely father in singing career as her father does the same.
In the cosmetics range, the star Liv Tyler worked with Givenchy group since 2003, but with the end of last year, announced that she was the Spokesman of the group and she will be the voice of the new fragrance.
Tyler has recorded new song titled "I need you tonight," which is the official song for the new Givenchy fragrance irresistible and calls it a Givenchy Electric Rose.
It may be the launch of the new fragrance is expected at the beginning of April, but perfume song is now available to all.